Two for Tuesday
My two very good friends came over to see me today, as was feeling a bit crap. It was great just to have them round and have a catch up/ gossip. They had their wine on the go and I had my summer fruits squash... was brill. Really cheered me up. Need to do those kind of things much more often, doesn't cost anything either, apart from a tea bag and a splash of milk!
Hayley
, one of the two mates that came round looked wicked by the way, vintage Levi shorts with shirt tucked in with chunky knit cardie and army boots!!!!! loved it. V jealous of the outfit.


Just like my mates shorts.... too awesome!
(from Google Images)
My mom has made a movable make shift fence for the garden, so we can block part of it off so we don't loose Tilly. Works wonders. She has been out there most the day all by herself. Shes growing up so fast. Bless my mom she really looks after me.
What about the Spice babies on the way. Mel B has just announced she has a sprog on the way too. We will be growing up in another Spice generation. Happy for them all though. I love the Spice Girls.... and you know what anyone that says they don't are lying. Everybody loves them!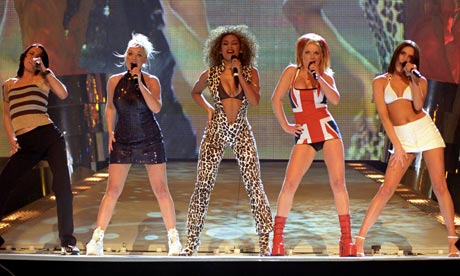 Spice Girls.... Everybody love them
(from Google Images)


Definitely becoming more of a lookbook addict everyday. My fave look today is:
http://lookbook.nu/look/1709731-Cheers-to-That
Love the hair. Amazing. How is it even possible to dye it like that. I think this look is so effortless yet glam rock chick/ geek. The leather jacket and jewellery rock it but but the shorts and brogues are geeky looking. I would never of thought to put these items together, but god it works!
Must have item of the moment for me is a new satchel. Mine is falling apart at the seams and it was my Nan's so I want to give it a rest for a while. But it is sooooo cool. I will miss it.
My summer fruit squash is calling.
Night xxx